People Can't Believe Donald Trump's Tiny-Looking Desk For His Thanksgiving Rant Isn't A Joke
Posted On November 27, 2020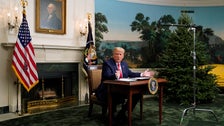 President Donald Trump sat at a small-looking desk to baselessly rant about election fraud on Thanksgiving, and Twitter users had a field day with the furniture.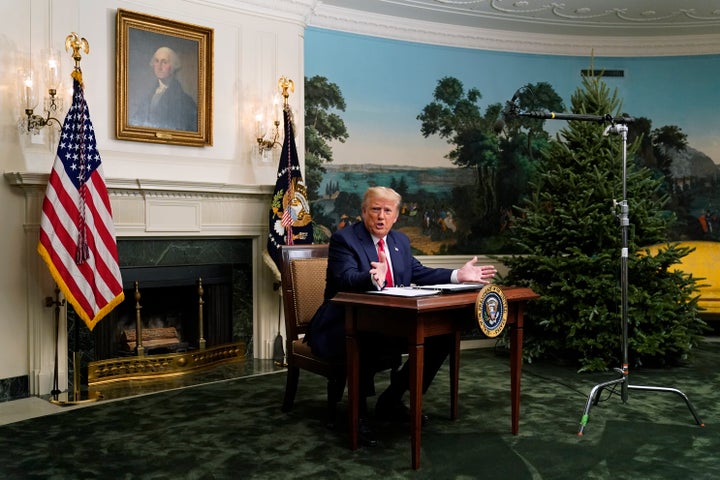 ASSOCIATED PRESS



President Donald Trump spoke with reporters following a video chat with members of the military, and the tiny desk he sat at became a meme.

Photographs from Trump's presser soon became a meme as Twitter users joked the president had been moved to the kids' table for Thanksgiving.
Maybe if you behave yourself, stop lying to undermine a fair election & start thinking of what's good for the country instead of whining about how unfairly you are treated, you'll be invited to sit at the big boy's table. #DiaperDon pic.twitter.com/nnNOoOI1gl

— Mark Hamill (@HamillHimself) November 27, 2020
It's like one of those "just like Mommy" mini kitchen sets they sell in toy catalogs, but for the Resolute Desk. I can't stop looking at it.

— Celeste Ng (@pronounced_ing) November 27, 2020
Awww, look what Trump got for Christmas: Fisher Price's 'I'm still President' Miniature Desk Playset! So cute… 😊 pic.twitter.com/P0yoSLKltF

— Caffeinated, Creative Mammal { Jon Carter }🇺🇸 (@MongolianMisfit) November 27, 2020
Lame-duck dropping the worst tiny desk concert ever.

— Mat Johnson (@mat_johnson) November 27, 2020
Just want to give an extra Thanksgiving shout-out to the person in Trump's camp who walked out to look at that desk prior to today's presser and went, "Yeah, looks good. Bring him in." #hero pic.twitter.com/wR4TnBmZOg

— Richard Marx (@richardmarx) November 27, 2020
The best part about the tiny desk is this is where he got mad at a reporter and snapped "I'm the president of the United States. Don't talk to me that way."
A cartoonist couldn't have imagined it better.

— Helen Kennedy (@HelenKennedy) November 27, 2020
There was an apparent explanation for the desk, however, which some people noted was usually used by the president when surrounded by others:
Here's the thing about the small desk Trump is sitting at. It's like… a bill-signing desk. It's meant to have a dozen or so people around it. I think it might be small so that more people can cram in for a photo op.

It is not intended to be a desk you sit at alone. pic.twitter.com/LOc0M1bImE

— 📌 Pinned Tweet (@Mantia) November 27, 2020
Seriously. The desk is fine. Presidents have sat at this kind of desk for decades in signing ceremonies.

What's *weird* is that Trump would want to sit at this desk to answer questions from the press. Get up. Go to another room. Like the Press Briefing Room, for instance. pic.twitter.com/G4550kVOCA

— 📌 Pinned Tweet (@Mantia) November 27, 2020
(Like, I'm all for poking fun at this fuckin' bozo. Knock yourselves out. But as per usual, it's his *behavior* that makes him a dum dum, not the damn piece of furniture. This desk is pretty heckin' standard. You don't have to make this out to be something it isn't.)

— 📌 Pinned Tweet (@Mantia) November 27, 2020
Source: https://www.huffpost.com/entry/donald-trump-tiny-desk-meme_n_5fc0a552c5b68ca87f8319b6