'Zombie' Herman Cain Tweets That Coronavirus 'Not As Deadly' As Media Said
Posted On August 31, 2020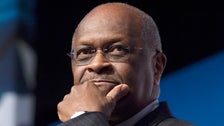 The Twitter account formerly used by the late Herman Cain fired off a head-scratching message on Sunday, insisting that the coronavirus "isn't as deadly" as once thought.
Cain died in July at the age of 74 after being hospitalized for more than a month with the COVID-19 infection.
His Twitter account ― now run by his family and social media managers ― tweeted: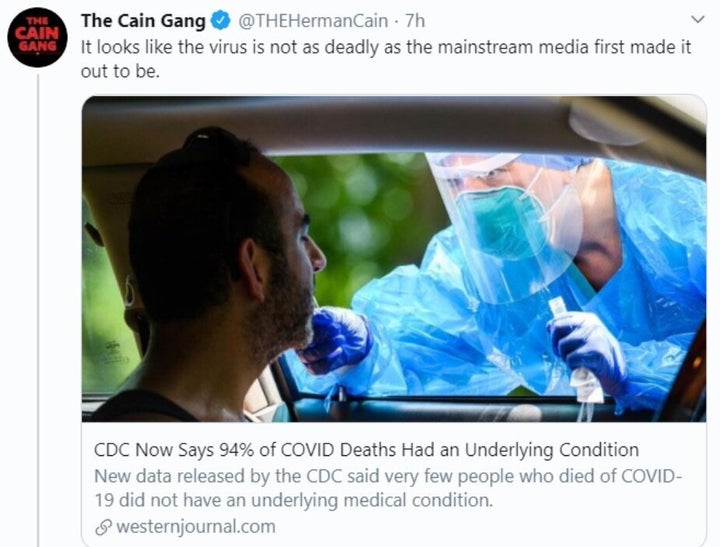 Herman Cain



Herman Cain Tweet

Given Cain's own cause of death, the tweet ― which was eventually deleted ― drew a rather stunned response from critics on social media:
Can we dig Herman up and have independent doctors confirm this?

PS: Do you know how fucking creepy it is that you continue to tweet from his account? https://t.co/QCyR1LxnXx

— Don Winslow (@donwinslow) August 31, 2020
EFFING IRONIC: a person (Herman Cain) who died of #COVID19 tweets from the dead to tell us that COVID is not as deadly as it is made out to be.

P.s. bonus for also tweeting a false "6%" conspiracy theory.

➡️ Please report this account below for "fake" name. Cain passed away. https://t.co/c9X3tk3ms8

— Eric Feigl-Ding (@DrEricDing) August 31, 2020
Losing my mind that Herman Cain's zombie twitter account is tweeting conspiracy nonsense about how Covid isn't real despite the fact HERMAN CAIN DIED FROM COVID. https://t.co/GsKAkjU3G2

— Intellectual Duck Web (@pixelkitties) August 31, 2020
The fact that Herman Cain's Twitter account is tweeting about how Covid-19 isn't as deadly as ✨the media✨ makes it out to be when Cain's death was the result of Covid-19 is just absolutely pure lol.

— Sana Saeed (@SanaSaeed) August 31, 2020
Herman Cain being killed by a pandemic and then later tweeting that the pandemic isn't really that deadly isn't the most important thing to happen in 2020 but it is by far the craziest https://t.co/J96aaOvaKt

— Brandon Friedman (@BFriedmanDC) August 31, 2020
Tell that to Herman Cai—

Oh wait…

— The The Commisariat of Benightenment (@trumpmenbashi) August 30, 2020
Did Christopher Nolan direct this tweet?

— Sleeping Giants (@slpng_giants) August 31, 2020
Little social media tip: this would be more convincing coming from an account of someone who hadn't died of coronavirus.

— James Felton (@JimMFelton) August 31, 2020
Sir, the virus killed you. You died from it.

— Cody Johnston (@drmistercody) August 31, 2020
Does Herman Cain, who died a month ago of covid-19, still tweeting that covid-19 is a hoax, count as a "zombie apocalypse?" Asking for my bingo card. https://t.co/jEtcZEjoQM

— Derek C. of Earth-23 (post-Crisis pre-Flashpoint) (@PopRelics) August 31, 2020
A HuffPost Guide To Coronavirus
Everyone deserves accurate information about COVID-19. Support journalism without a paywall — and keep it free for everyone — by
becoming a HuffPost member
today.
Source: https://www.huffpost.com/entry/herman-cain-coronavirus-not-as-deadly_n_5f4ca08fc5b64f17e13fc8b4